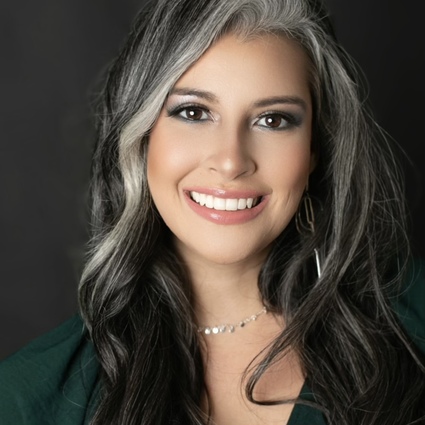 Alexandra Torres
Team Leader + Realtor
Why I love real estate
"...I followed my dad on showings and watched how he managed his business."
I have been surrounded by homes my entire life. My father, Carlos Torres, was one of Houston's Top 25 Realtors and a mortgage broker. My Grandfather built several apartments in Nicaragua, and as an adult, I attended The Art Institute of Houston and received my BFA in Interior Design.
At the age of 17, I "officially" became my dad's personal assistant although it started many years prior. Since the age of six (6), I followed my dad on showings and watched how he managed his business. I paid close attention to how he built relationships with his clients and negotiated his deals. My dad closed approximately $35-40 million in residential sales a year! You can say I had a great mentor/teacher.
My passion for design began while working with my Father as I took on creating all of his marketing collateral. During college, I studied to become a Real Estate Agent in order to continue helping him and in November of 2008, I became a licensed Agent. Eventually, I began to help him show houses and fill out his sales contracts.
In 2009, I graduated from The Art Institute during the recession and decided to start my own company Strands of Silver Co. My original thought was to practice as an Interior Designer. Life, as you know, would have a different turn of events. People saw my brand, Strands of Silver Co., and began to hire me to create their brands, websites, marketing collateral and more. This is how Strands of Silver Co. evolved into a Design Agency which now supports Arise Realty Group and many other businesses!
For years I continued to work for other small business owners in dual role positions but always within the confinement of the Real Estate Industry. In 2017, I decided to finally merge my two passions together in order to help people design their ideal lifestyle through Arise Realty Group.
Listings you'll love
with the expert advice you deserve
Our clients are awesome
and here is what they are saying
"Alexa was hands down the best realtor I've worked with! Her knowledge of the market in general AND in my specific area was remarkable! She was very responsive to the questions I had (and I had a lot), and she was thorough and made sure I understood everything she was explaining. I went through 2 realtors before I found her, and what a relief it was to finally come across a realtor that knew the ends and outs! I would definitely use and recommend her again and again!"
"Alexandra was amazing to work with! She always made sure to answer our questions in a timely manner and was always available when we needed her. She made the stressful house hunting experience way less overwhelming."
"Very attentive communicative, she helped us a lot in our first purchase, her professionalism is incredible."
"Alexandra went above and beyond to make sure we found the perfect house. She has years of experience and knowledge of all areas."
"I highly recommend Alexandra, she is amazing! Not only is she so sweet but extremely knowledgeable, and professional. She answered every question no matter the time of day. I can highly recommend her to anyone seeking a true professional Realtor."
"Alexa is amazing, she took care of me since the beginning, she knows the city and the best areas, she explained to me all the little details that no one does, she never rushed me, she was really nice. I would definitely call her again. Thanks for the huge help."
"Alexa was amazing!! I was new to Houston and she helped me with all the questions and concerns I had about the city. I highly recommend Alexa! Super nice and sweet. Thank you Alexa!! I couldn't have done it without you!"
"My boyfriend and I loved working with Alex! She made the entire process enjoyable and stress free. We knew what we were looking for and she made sure we didn't settle until we found the perfect place! She was informative and took on the responsibility most wouldn't. We're so EXCITED we found her because now we have reliable realtor we love."
"Alex was awesome! She was very patient with us and helped us find the perfect house. Thank you Alex and the team at Arise!!"
"Honesty, Fast respondents, Always willing to answer all your questions. Above all - Very Professional. Thank you again ARG."